Product Details
Bigshot Camera- EL-362-DIY Digital Camera Kit - The Camera For Education
SKU: EL-362
Overview
A Camera for Education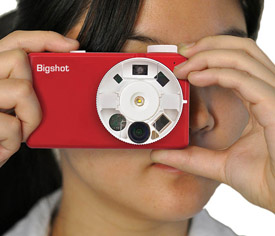 The enormous appeal of the camera can be used to turn it into a compelling tool for learning. We believe that a camera designed for education must have three features.

First, it should be designed as a kit for assembly – putting the kit together should expose the user to a wide range of science concepts. Second, it should include features that cannot be found in other cameras, allowing the user to explore new creative dimensions. Finally, it should be low-cost, making it accessible to the less privileged.

Bigshot has been designed with these goals in mind. There is another important feature that sets Bigshot apart from virtually all educational kits – once you have built it, it is a fully functioning digital camera that you can use everyday!
Bigshot offers you three distinct experiences.

(a) Learn: While assembling it you can use the descriptions, illustrations and demonstrations on this website to learn fundamental concepts in optics, mechanics, electromagnetism, electronics and image processing.

(b) Create: Once assembled, use Bigshot to tap into your creative potential as a photographer. You can compose and capture moments from your everyday life, while experimenting with framing, lighting and motion.

(c) Express: You can share your favorite photos and related stories with others in different communities or even different countries. We believe that the sharing of life experiences through photos, across geographical and cultural boundaries, is a powerful way to open the minds of kids (and adults) who may not have the resources to travel the world.
On the home page we say that the age range for the product is 8 - 108 yrs. We truly believe that Bigshot can be enjoyed by kids and adults alike. The kit can be safely assembled by anyone 8 years of age or older. The content on this site has been designed to reach a very wide audience - young kids (with guidance from parents or teachers), middle school, high school and college students, as well as grown ups who are fascinated by cameras and would like to know more about how they work.
The Bigshot digital camera kit allows students and individuals to make their own real, working digital camera and explore what's inside it!

While assembling the kit they will learn about all the underlying concepts - optics, mechanics, electromagnetism, electronics and much more!

And that's not all, the Bigshot camera has many features not found on conventional cameras: - ever taken a 3D photo? Simply rotate the lens wheel to switch between regular, panoramic and 3D modes. Low battery? Just rotate the hand-crank a few times and continue to shoot your photos!

Use the Bigshot software to download and process your photos on your Mac or PC
The Bigshot camera was designed with education in mind. It's a complete digital camera that you assemble yourself, learning how it works along the way. The detailed descriptions, illustrations, and demonstrations teach you the fundamental concepts of optics, mechanics, electromagnetism, electronics and image processing as you build the camera. Once complete, the camera allows you to tap into your potential as a photographer. You'll learn how to compose shots, experiment with lighting, framing, motion, and how to use the polyoptic wheel to explore new creative views – including 3D. After your pictures are taken, use the free Bigshot software (PC and Mac versions available) to download, process, and share your images with the world.
Although the Bigshot was designed for young makers, it's just as much fun for adults. It's also green in that it requires no batteries or external power. Just wind the integrated crank when your batteries get low and keep taking pictures!
Educational DIY digital camera kit
Learn as you build
Modes: Regular, Panoramic and 3D
Hand-cranked 'Green power' dynamo
Built-in flash: Auto, Forced, Off
USB connection

Kit includes:
Camera body with clear back cover
Pre-assembled PCB module
Rechargeable battery
Dynamo with gears and crank handle
Lens wheel
LED flash unit
USB cable
Wrist strap
Screwdriver and screws
3D glasses
Everything else you need
| | |
| --- | --- |
| Color | Red |
| Sensor | 3MP (2408 x 1536) |
| Storage | Internal Flash: approx. 120 JPEG photos |
| Camera modes | Auto, Flash, No-Flash, Timer |
| Lens settings | Regular, Panoramic and Stereo (3D) |
| Field of view | Regular 40°, Panoramic 80° and Stereo 16° |
| Flash | 1W LED |
| Display | 35mm (1.4in.) LCD |
| Battery | Rechargeable Lithium Polymer |
| Backup power | Hand cranked dynamo |
| Interface | USB 2.0 |
| Dimensions | 129 x 72 x 40mm |
| Image processing | Software for Windows and Mac OSX |
| Minimum requirements | Mac OS 10.6 and above. Windows Vista, 7 or 8 |
How many times can the kit be assembled and disassembled? Strictly speaking, once. The screw threadings and connectors are not really designed for multiple assemblies. However, if handled with care, we expect the components should be able to bear about half a dozen assemble-disassemble cycles.
Can one use Bigshot without downloading its software? Yes, but not fully. Using the USB cable, you can connect Bigshot to your Mac or PC and download photos. However, only the regular photos will be useful to you. The software is needed to convert the wide-angle and stereo photos into panoramic and 3D photos, which are great fun. The software also improves the quality (brightness, contrast, color, etc.) of all photos taken with Bigshot.
I am a teacher. How do I use Bigshot to develop an after-school program? There are many ways in which an after-school program can be designed around Bigshot. If it is a semester long program, you could spend the first half of the semester building some of the simple science projects described in Buildables. Then, you could use a couple of sessions to have the students put Bigshots together using the Build section. In between the above hands-on projects you could teach several of the concepts described in the Learn section. Once Bigshot has been assembled, the focus can shift to the art of photography. You can teach the students the basic rules of photography and how to operate Bigshot. The students can then go out on "shoots," where each shoot has a theme. Finally, the students can present their best photos to their peers. You could even curate an exhibition for the whole school to see.
How do I develop a one-day workshop centered on Bigshot?
We conducted several one-day workshops in the initial stages of the Bigshot project. In the morning session, we showed the students how to assemble Bigshot. We paused several times during the assembly to describe related concepts using the Learn section. After lunch, we took the group out to an interesting location for a shoot. The students experimented with composition and lighting, and tried their hand at panoramic and 3D photography. In the evening session, the photos were downloaded, viewed and discussed as a group.
What type of battery charger is required,is it included ? Or will the battery totally recharge with the crank handle?
The camera charges from the USB port or the hand crank. There is no mains charger included.
I HOPE WE ANSWERED MOST OF YOUR QUESTIONS... NOW GO AND HAVE SOME FUN WITH THE BIG SHOT CAMERA KIT
AGES:8-108 YRS.
Tell a Friend
Cart Contents
Your cart is currently empty
Subtotal: $0.00
Order Info
TOLL FREE: 800-379-6664
INTERNATIONAL:954-574-0345

SCHOOL PURCHASE ORDERS:
FAX: 954-574-9528

INTERNATIONAL ORDERS:
MONEY ORDER,WESTERN UNION, OR BANK WIRE
(NOT INCL. CANADA)
Sale Item